The WBCC is growing to meet the needs of advocates and breast cancer survivors in Wisconsin. We are actively seeking individuals and business partners to help support us in our mission. You can help us meet our goals for 2017 by fundraising on our behalf!
Recent fundraisers
WisconsinMade.com Donates Proceeds
Sixth Annual Breast Cancer Ride
Thanks you Joe's K Ranch in Cudahy
Hold a fundraiser for the Wisconsin Breast Cancer Coalition!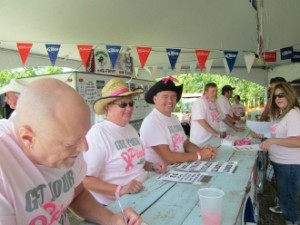 Every year, we are thankful to the many community groups and businesses that raise funds for WBCC by holding their own events.
The steps are easy. Review our  Fundraising Guidelines and complete a one-page Fundraiser Form.
To help you plan your event, we have developed a "Fundraising Kit", filled with ideas and helpful tips. These tips come from experienced fundraisers and will help you make the most of your efforts.
Email or mail the signed Fundraiser Form to us before proceeding to plan your event. This agreement ensures that tax requirements surrounding fundraisers are met, and that all involved parties are aware of responsibilities involved in a fundraising event. If you have any questions, please feel free to call or email us. We have experienced fundraisers who will be happy to work with you throughout the planning process!